Les parents du jeune Prince ont annoncé son nom à la presse: il s'appellera George (Alexander Louis )
Ci-dessous, l'annonce officielle:
Nom patriotique, puisque le saint patron de l'Angleterre n'est autre que Saint George!
Royal baby name: Prince George Alexander Louis announced to the world
The Duke and Duchess of Cambridge have announced their newborn son is to be called George Alexander Louis. He will be known as His Royal Highness Prince George of Cambridge. The announcement at ...
http://www.guardian.co.uk/uk-news/2013/jul/24/prince-george-alexander-louis-royal-baby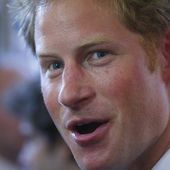 Prince Harry talks of new nephew
Prince Harry has said one of his duties as an uncle to his new nephew Prince George is "to make sure he has fun". Harry said that he had already cuddled the prince, who was born on Monday, and has ...
son oncle s'occupera bien de lui...