Vous aimez mes Escape Games?
En voici un sur le thème de Noël!
Commencez par regarder sa bande annonce:
Created using Powtoon -- Free sign up at http://www.powtoon.com/youtube/ -- Create animated videos and animated presentations for free. PowToon is a free tool that allows you to develop cool ...
Et maintenant, au travail!
Allez aider le Père Noël!
Licence Creative Commons Attribution - Pas d'Utilisation Commerciale 4.0 International.
http://www.englishnexon.com/pages/teachers-zone-6eme/xmas-escape-game-internet-version.html
Un site plein de ressources, maintenant pour se reposer et réviser doucement: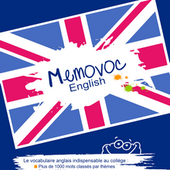 Step 1 : Commencez par regarder et écouter ces deux vidéos. Pensez à répéter les mots à haute voix. Vidéo n°1 : 12 mots Vidéo n°2 : 15 mots Step 2 : Mémorisez 6 mots avec 3 activités Ac...