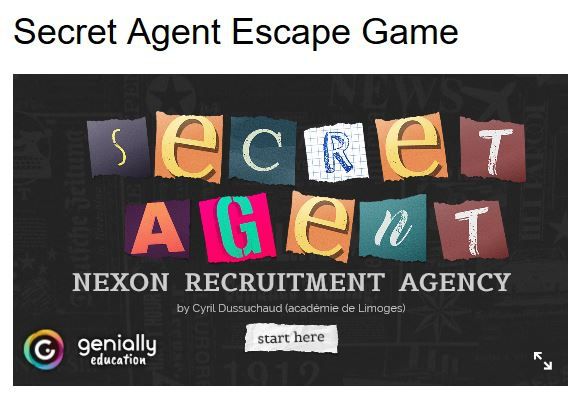 Voici un escape game parfait pour revoir les identités, nationalités, etc.
Regardez la bande-annonce, suivez les instructions, et ... au travail!
mais en toute discrétion, bien sûr!
INTRO ESCAPE GAME SECRET AGENT
Created using Powtoon -- Free sign up at http://www.powtoon.com/youtube/ -- Create animated videos and animated presentations for free. PowToon is a free tool that allows you to develop cool ...
Suivez le lien de l'escape game:
Licence Creative Commons Attribution - Pas d'Utilisation Commerciale 4.0 International.
http://www.englishnexon.com/pages/for-teachers-only/secret-agent-escape-game-1.html