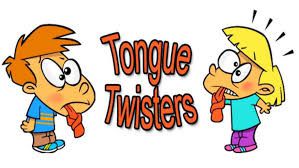 Pour les élèves curieux, voici quelques tongue twisters pour vous amuser!
How much wood would a woodchuck chuck if a woodchuck could chuck wood?
Peter Piper picked a peck of pickled peppers. How many pickled peppers did Peter Piper pick?
Can you can a can as a canner can can a can?
G ive papa a cup of proper coffe in a copper coffe cup.
Seventy-seven benevolent elephants
She sells seashells by the seashore.
Which witch switched the Swiss wristwatches?