Je viens de découvrir un site super pour s'entrainer à la compréhension orale avec des chansons!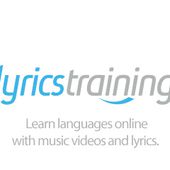 Learn Languages for Free with Music Videos, Lyrics and Karaoke! English, Spanish, French, German, Italian, Portuguese and Dutch
LyricsTraining is an easy and fun way to learn and improve your foreign languages skills, through the music videos and the lyrics of your favorite songs
La règle du jeu?
Cliquer sur une des chansons proposées sur la page d'accueil, ou faites une recherche par nom d'artiste ou titre de chanson, puis lancer la vidéo (pour avoir la vidéo en entier, il faut créer un compte, mais c'est très rapide et c'est GRATUIT)...
Ecoutez.... Et tapez les mots qui ont été effacés!
Génial non?!