Voici une collection de liens, réalisée par une professeur d'anglais sur le thème 'parler de ce que l'on aime ou pas'.
Prenez le temps de fouiller ce qu'elle propose, c'est très complet!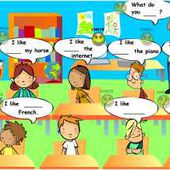 Les Goûts (Likes and Dislikes) - teaandscones.overblog.com
Les loisirs First click on the picture and play the games, then play the 4 games below. _uacct = &UA-350779-1&; urchinTracker(); Back to the main page What they like and don t like Buzz is a very ...