Le Prince William et la Duchesse de Cambridge, Kate, attendent leur second enfant ... ou plutôt, selon la rumeur, attendraient des jumeaux, ou même, des jumelles...
Wait and see!
People Seem to Think Kate Middleton Is Expecting Twins
Now, obviously, Kate Middleton, recently revealed to be pregnant, could very well be carrying twins; if she is, it is unlikely any of us in the public would know for a number of months. But, reader
http://www.vanityfair.com/online/daily/2014/09/kate-middleton-expecting-twins-odds
Les paris sur les prénoms vont pouvoir commencer!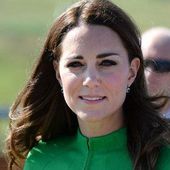 Kate Middleton Twin Daughter Pregnancy: Prince William, Princess Could Name Girl Babies Elizabeth and Margaret
It's official, the Duchess of Cambridge Kate Middleton is pregnant - and possibly with twin girls which they royal couple will name Margaret and Elizabeth! On September 8th the Palace confirmed that
http://www.celebdirtylaundry.com/2014/kate-middleton-twin-daughter-pregnancy-princess-prince-william-name-girls-elizabeth-margaret/