La salle 312, qui se décore peu à peu pour Halloween... Il ne manque plus que les décorations des élèves de cette année.
Ils devaient se rendre sur le site internet donné en classe pour fabriquer leurs oeuvres d'art ce weekend!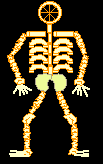 Halloween Crafts and Activities - EnchantedLearning.com
Advertisement. EnchantedLearning.com is a user-supported site. As a bonus, site members have access to a banner-ad-free version of the site, with print-friendly pages. Click here to learn more ...